The pool completes the summer
Every splash satisfies. Every lesson empowers. Every swim is an adventure. There's no better way to take on the heat of the summer than a dip in the water. That's why no matter which Quest campers pursue, they all have the opportunity to experience the pool.
Each age group enjoys one period of recreational swim and one period instructional swim a day. From swim skills to water sports, campers of every age and level gain the value they need and the fun they seek!
Enjoy swim time all the time
Connect with us
Slide right in & mix sports with swim
At Island Quest, we strive to make swimming as exciting as any of our unique adventures. During their free time in the pool, our campers can all experience our all-new slide, see who can make the biggest splash, and enjoy their favorite sports in the water with our water volleyball net, pool basketball hoop, and more.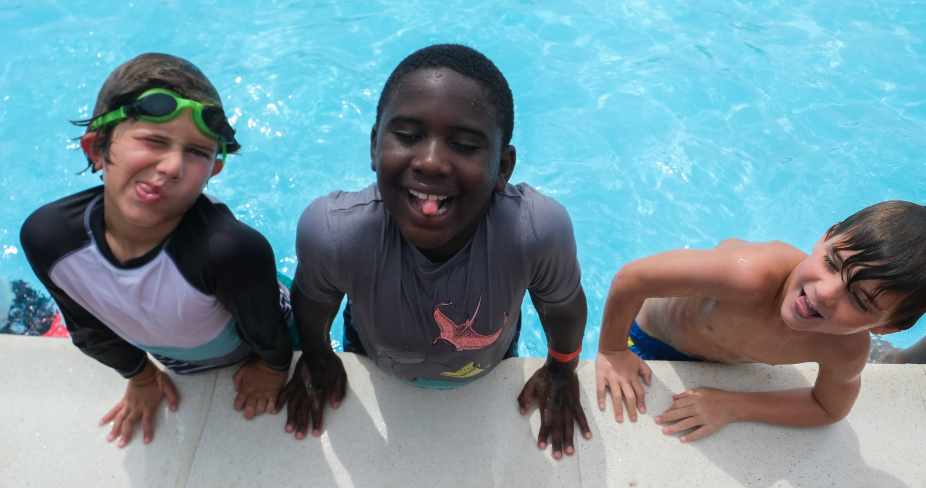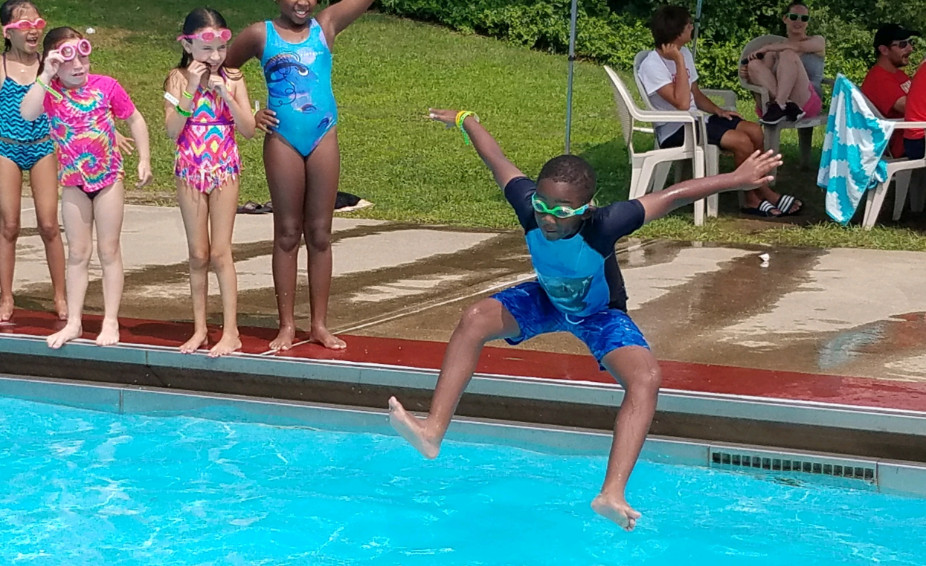 Master the water with next level lessons
No matter how old a camper, which quest they're in, or how long they've been in camp, our talented Water Safety Instructors (WSI) and certified lifeguard staff will empower them to progress and gain confidence in the water. Whether a camper is just learning to get comfortable in the water or already a skilled swimmer, our extensive program has the training they need to take their strokes to another level.
Which level is the next level?
All campers are assessed on their first day and placed in a swim level by our WSI's Our levels are based on the American Red Cross swim levels as we will not only teach campers to wsim, but also train them in essential safety techniques and improve their water IQ. Here are some highlights:
LEVEL 1-2: Introduction to Water Skills & Fundamental Aquatic Skills
New swimmers who are first getting comfortable in the water will learn the basics and beyond:
Jumping in
Going under water
Bobbing
Front float & crawl
Back float & crawl
Rolling over
Flutter kick
Retrieving objects under water
LEVEL 3-4: Stroke Development & Improvement
Campers who have already mastered front and back float will work on:
Freestyle Swim
Gliding
Side breathing
Backstroke
Breaststroke
Rotary breathing
Dolphin kicks
Scissors and whip kicking
Treading water
Jumping into deep water
Diving in kneeling position
Retrieving objects in deeper water
LEVEL 5-6: Stroke Refinement & Skill Proficiency
Campers who already have some knowledge of freestyle swim, breaststroke, and backstroke, scissors and whip kicking, treading water, and diving will learn:
Alternate breathing
Stride jump
Mastery of all strokes
Dolphin kick and butterfly
Open turn on front and back
Refinement of Diving
Treading water for longer
High level Turns
Basic water rescue

Their experiences speak for themselves
"I love camp because I love seeing my friends , there are so many fun things to do and I love swimming."

Skylar

Age 5